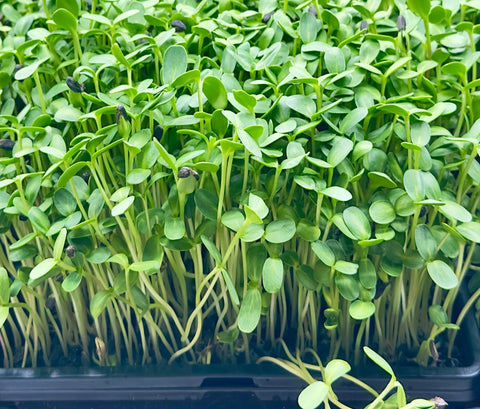 Nona Greens
Sunflower Microgreens - 2oz.
Our Micro Sunflowers are crunchy and bursting with a delightful nutty flavor that perfectly complements both sweet and savory dishes. These tiny wonders are the perfect snack and make a great topping for your favorite meals. Loved by kids and adults alike, our Micro Sunflowers are sure to be a hit!
One cup (68 grams) of raw sunflowers contains an abundance of nutrients. They provide 25 calories, 2g of protein, 4g of carbohydrates, 2g of fiber, and significant amounts of calcium, iron, magnesium, phosphorus, potassium, sodium, zinc, vitamin C, vitamin K, folate, and vitamin A.
Our Micro Sunflowers are packed with benefits. They help support heart health, improve eyesight, aid in weight loss, promote digestion, strengthen bones and muscles, boost the immune system, and keep skin healthy. Add these tasty Microgreens to your diet today!