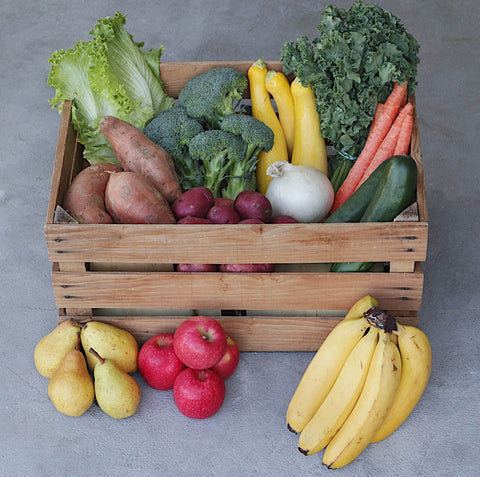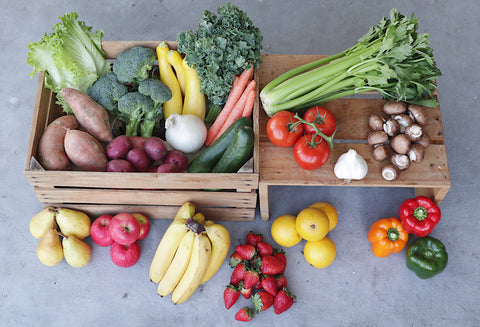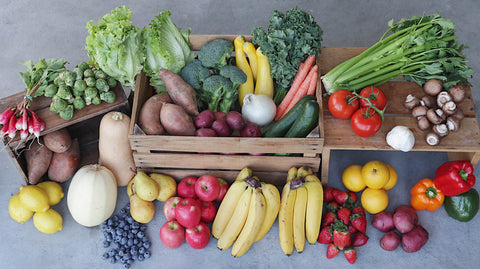 Fresh by 4Roots
Organic Produce Box
All produce included is sourced from local farms when in season and grown using a variety of clean growing practices without synthetic pesticides; including in soil, hydroponic, aquaponic, and aeroponic. When local items are out of season, all non-local produce we source is certified organic. 
Included in the small box is 10-12lbs total of the following: 
Kale 
Carrots 
Lettuce - Local
Apples
Bananas
Pears
Cucumbers - Local
Summer Squash - Local
Sweet Potatoes
Red Potatoes - Local
Broccoli

Onions - Local
Included in the medium box is all of the above, plus the following for a total of 18-20lbs: 
Tomatoes - Local
Garlic
Mushrooms
Bell Peppers - Local
Oranges 
Celery 
Strawberries 
Included in the large box is all of the above, plus the following for a total of 28-30lbs:  
Blueberries 
Lemons
Brussels Sprouts or Local Cabbage

Spaghetti Squash - Local
Butternut Squash - Local
Okra - Local
*Item selections will change seasonally and you will be notified by email of new seasonal offerings. Exact weights of each item may vary seasonally based on market prices. Substitutions may be necessary based on supply and quality.